Mom life is simpler than ever before!





Open the zipper completely, and then align the two bracket interfaces on both sides in a straight line.

Make sure the bottom of the structure is now flat and put the changing mat inside.

After use, remove the cradle support first and fold the support flat. Fold the bracket into an X shape and close the zipper.
Turn Mom Life Into A Simple Task !
This stylish diaper bag can be used as a travel cot, a diaper bag and a portable baby changing table, or it can be used as a backpack. It's a convenient and necessary prop for the baby.
Give your child a safe, clean snuggle nest to sleep on the go.
Converts Into a Perfect Mobile Crib!


Change Diapers Easily At Home Or On The Go!


Carry All Of Your Baby Supplies Hassle-Free!


Insulated Pockets Keep Your Milk Bottles Warm!


Make It Easy When You Visit Grandma And Other Relatives !


Comes Equipped With Hooks For Your Stroller

(4 Different Ways To Carry )

Streamlined design and great construction. Easily turns into a diaper changer with a waterproof pad included.

Keep baby bottles warm or cold in the insulated pockets, great for heading out with your baby for a long day.
Front compartment holds baby essentials with plenty of room for more. Works great for diapers and wipes organization.

Zippered pocket on back panel for quick reach, easy and safe access to your small items, as well as your mobile.

Easy-grab handle. With a simple snap, keep the handles together, very simple to open and close as needed.

Quality zipper, very smooth and strong. It secures main and secondary pockets (keeps stuff in and organized).

Thick padded shoulder straps make it easy for you to carry your baby, and do all your tasks with ease.

Adjust the back straps to your convenience. You can easily make them longer or shorter with one simple movement.
Order Today And Save $183
Take Advantage of the Lowest Prices Ever on Sprouty Crib Diaper Bags!
FREE Shipping ($12.99 value)

FREE Stroller Hooks ($19.99 value)

FREE Changing Pad ($9.99 value)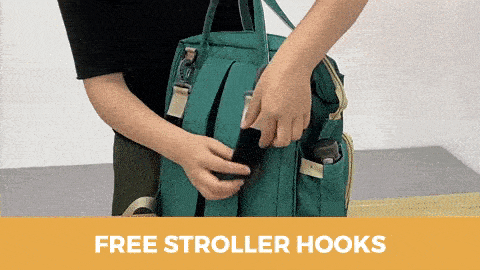 Dimensions

Size


16.14 in x 13 in x 7.48 in

41 cm x 32 cm x 19 cm




Height


9.05 in | 23 cm




Bassinet

28.74 in | 73 cm
Dimensions

Size


16.14 in x 13 in x 7.48 in

41 cm x 32 cm x 19 cm

Height


9.05 in | 23 cm

Bassinet


28.74 in | 73 cm

What Moms Say About The 5-in-1 Crib Diaper Bag?
"So much space! I have a blanket, 8 diapers, a set of clean clothes, a pair of baby shoes, a few toys, a nursing cover, a wet bag, baby medicine, a bag of wipes and a can of snacks. And guess what? I still have so much room left! The side slip pocket can fit two water bottles!! So neat. There is endless pockets and they're available in and out of the bag. I can easily get whatever is at the bottom of my bag without an issue because the back has a zipper for the bottom portion. Made from good material and it's so cute! I love it so much."
Amazing and Versatile Bag
"This bag is AWESOME!! I love the face that it attaches to the back of the stroller so I do not have to lug it on my back (back issues). It has many pockets, a slit to pull out wipes on the side (overlaps so if not in use, it's really not noticeable. A pocket in the back to grab something out without opening the entire bag. Lots of storage and multiple pockets. Liner is thick and although I have not had any spills (knock on wood), it would be an ease to wipe down!

BOTTOM LINE: LOVE LOVE LOVE this bag!"
Love this bag! Had to have the typical over the shoulder diaper bags with our first two, because that's what a diaper bag is. This is so much better! If you need to carry for a long period of time it's so much nicer to have the backpack style. Having the clips included to hang from the stroller is also a plus. Love that it stays open wide for ease of use and doesn't shut if you let it go. The bottle pockets fit the wider bottles perfectly (we use tommee tippee). It's durable and holds more than we need. Absolutely love this bag and will be using it for quite awhile.
One person found this helpful
This diaper bag is amazing!
"It comes in a nice package with a ziplock bag. The bag is spacious and the quality is good. I like how it has multiple compartments which allows me to organize my baby's diapers, clothings, wipes easily! There's even space for my personality items like cell phone and wallet. The material seems to be water resistant and it doesn't get dirty easily. Overall I'm loving this bag over my other diaper bag which is a tote bag style. The backpack style makes it easier to travel around.
Are the stroller hooks included? Yes! ...
Yes! The strollers hooks are included for free! ($19.99 value)
Size: 41*32*19 cm / 16.14*13*7.48 inches
Height: 23 cm / 9.05 inches
Bassinet: 73 cm / 28.74 inches
The crib diaper bag weighs around 3lbs!
The straps are really wide and comfortable, perfect for moms.
Can parents sleep next to the crib bag? Yes! ...
Yes. The crib diaper bag frame is sturdy and will prevent your from rolling into it.
Rated by 4.8/5 by 12100 Happy Customers